tom kenley
guest columnist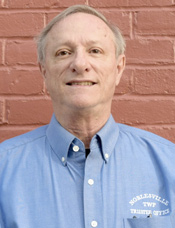 I thoroughly enjoyed my two terms as Noblesville Township Trustee and my first term as a Township Board Member. Having the opportunity to serve all citizens of Noblesville Township has been a rewarding personal and professional experience.
The reward is helping ordinary low-income people who are eligible to meet their financial assistance needs, or simply providing them with good practical advice, or helping where we couldn't. I would generally take the time to discuss the issue and discuss my concerns regarding the use of taxpayer-funded assistance. We provided a possible solution for a client who was less upset by the decision.
Denying help to family and individuals is arguably the most difficult part of being a trustee. Unfortunately, we can't help everyone all the time.
I always looked for reasons to approve before looking for reasons to reject. My dedicated staff always did their best to help people and guide them to a solution to their problems. think.
In my opinion, my best achievements are a new program to help people at low cost, the establishment of two safe places for township residents in dire need of assistance, and the back of the map. It was a two-year tax deferral for municipal tax shown in . Create property tax statements while increasing financial assistance to residents in need. Fire protection and EMS services always require a levy.
All churches, nonprofits, civic groups, the Noblesville Schools Education Foundation for supporting the first Noblesville Township Trustees Scholarship, and all who donated food and Township Endowment Funds My heartfelt thanks to the good people of .
Anyone interested in serving the community is encouraged to apply for public office by the February 3, 2023 primary fling deadline. At the time of writing this article, I am aware that many uncontested or unsubmitted seats remain.
All these local offices are very important. Choosing good candidates is critical to democracy and necessary to keep voter interest high. I have always heard from young people who call themselves under 50 that too many civil servants are too old. Without your active participation, that will never change. Show your willingness to serve, come up with some good ideas, and stay friendly to people who may not accept you right away, and you just might win! If you've learned something from a mistake you didn't make, you should submit it to the next election.
If you're not young, but still honestly have the drive and energy to represent your voters at a high level, you should consider running for public office or running for re-election. My point is, we need more honest, well-meaning citizens willing to put their names on local ballots. It's really the best thing for all of us.
Tom Kenley was first elected as trustee of Noblesville Township in November 2014. He has announced that he will not be running again in December 2021. For more information, NoblesvilleTownshipTrustee.com.