Good morning from Paul & Graham!
small caps podcast – I got up on Saturday morning. It's not a chore because I really enjoy doing these things.However, entering it teeth It's a chore, so I decided to drop it – sorry for the inconvenience, but the current workload is so high that something had to be done. Most of the podcasts are summaries of the shares covered for the week, so all the information (except for the short market/macrobit) is already in my his SCVR summary spreadsheet, so double-entering the podcasts I felt like I was It takes me 2-3 hours to type, but I don't mind if I don't have a weekend. please do not worry.
This week I flagged two mystery shares (my best ideas of the week, just for Stokopedia subscribers). left a comment here I'll reveal them in the comments section of SCVR on Friday and why I chose them. Duration: 1+ years, but depends on future news flow).
---
Annotation –
simple reminder Stock not recommended. We aim to review Deal update & result that day opinion If interested, look them up as candidates for further research. Our opinion may or may not be correct. Because no one can guess which direction market sentiment will take, and no one can predict the future with certainty.analyzing the company foundationdoes not attempt to predict market sentiment.
We stick to companies that made news that day, with market caps up to around £700m. We avoid the smallest and most speculative companies, as well as some specialized sectors (natural resources, pharmaceutical/biotech, etc.).
A key assumption is that the reader Dior (do your own research) and make your own investment decisions. Reader comments are welcome – be polite, reasonable and Include Company Name/TickerOtherwise, people won't necessarily know which company you're talking about.
---
Here's the first list I'll cover today (leave a comment below if you spot something important I've missed) –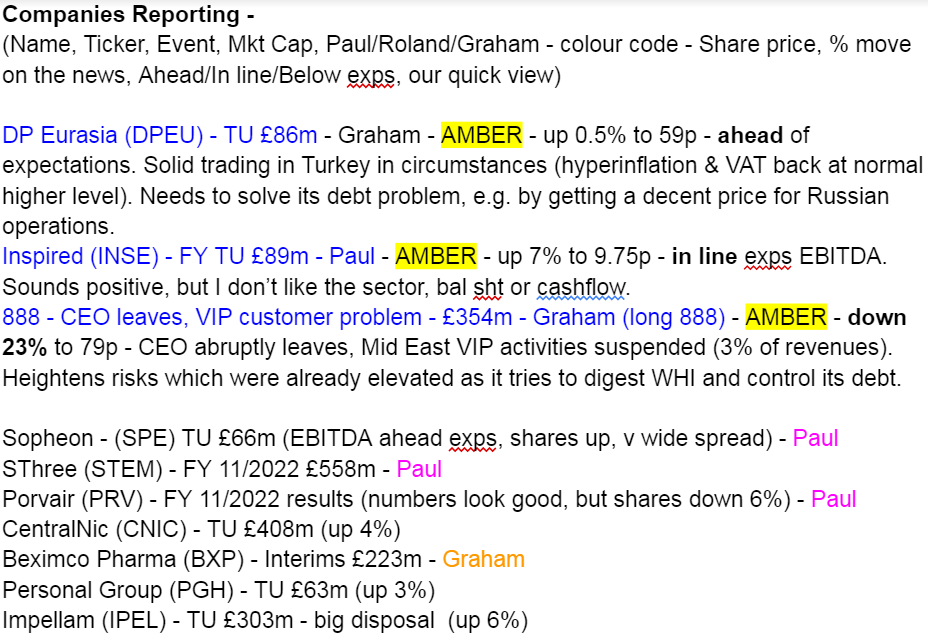 ---
Pole section:
inspired
(Longitude: Inse)