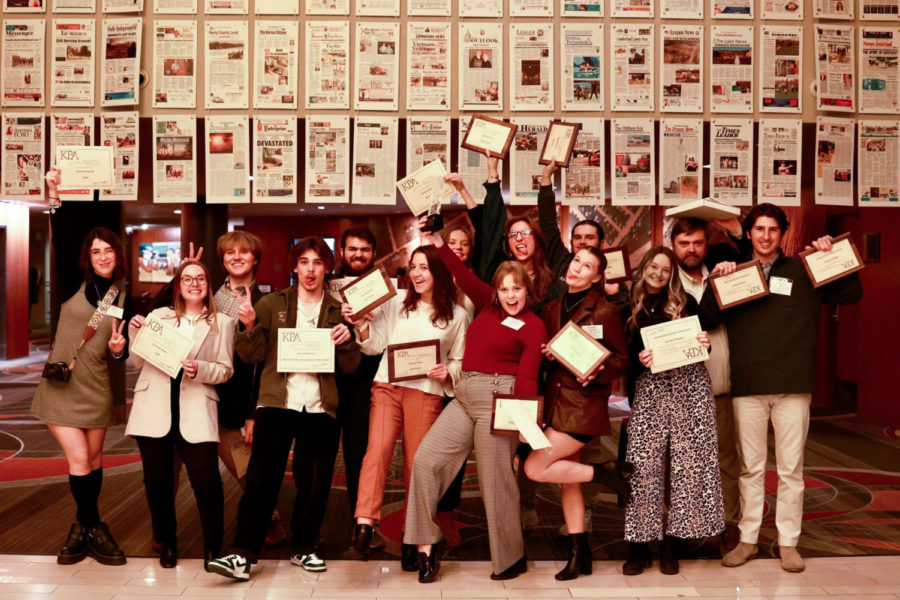 The Kernel won the General Excellence Award five years in a row and was placed in numerous news contest award categories at this year's Kentucky Press Association (KPA) Winter Convention on Friday, January 27th.
Newspapers statewide were allowed to submit articles and photos for consideration of the awards, and the KPA organized and judged submissions based on categories.
For the fifth year in a row, Kernel has won the General Excellence Award, the highest honor in the university class. This honor will be put on the shelf for future kernel her staff to admire.
Several members of the kernel staff have also won individual awards. In all news she won all categories of contest prizes, often kernels she finished 13th, 11th she finished 2nd, 14th she came 3rd. bottom.
Kernel Editor-in-Chief Rayleigh Deton took home some of these individual awards.
"I am humbled, grateful and extremely proud of both myself and the kernel as a whole. [awards]said Deaton. "The staff was a once-in-a-lifetime opportunity to work with them. I am grateful to the judges and team for making this possible."
Some of the individual awards shocked the winners. Kernel's Assistant Photo Editor, Abby Cutler, won her first place in the Best General News Photography category for a photo she took as a first-semester freshman. The kernel staff cheered.
"I am overjoyed," said Cutler. "To win an award for that, I don't feel like I deserve it because I'm so young, but it's very exciting."
Many of the Kernel staff are pleased with the outcome of the award and the reputation it has shown in the press.
Kernel Media Advisor Ryan Craig said, "We feel we have proven to Kentucky and its journalists five years in a row that we are one of the best newspapers, not just in Kentucky, but across American colleges. ' said. .
Full list of Kernel KPA winners:
best editorial writer
1st – Brooklyn Walters, Gillian King, Rayleigh Deaton
Best Breaking News Reporting
1st Place – Sarah Michels
Best Overall News Article
3rd Place – Natalie Parks
best columnist
1st Place – Sarah Michels
3rd Place – Brooklyn Walters
best sports columnist
1st place – Cole Park
3rd Place – Hunter Shelton
best sports story
3rd Place – Hunter Shelton
Best Sports Feature Article
1st place – Cole Park
Best Company or Analysis Story
3rd place – Sarah Michels
Best Investigative Story or Series
1st Place – Natalie Parks
2nd Place – Rayleigh Deaton
3rd Place – Natalie Parks
Best Continuing/Extension Press Article
2nd Place – Sarah Michels, Rayleigh Deaton
3rd place – Hannah Stanley, Gracie Moore, Bryce Taur
Best Business/Agribusiness Story
2nd Place – Alexis Baker
best rede
1st Place – Rayleigh Deaton
2nd Place – Sarah Michels
2nd Best Video: Hayley Simpkins
1st place Best Breaking News Photo: Michael Clubb
best breaking news photos
3rd Place – Maria Lau
Best General News Photo
1st Place – Abby Cutler
2nd Place – Jack Weaver
3rd Place – Jack Weaver
Best Feature Photo
2nd Place – Jack Weaver
3rd Place – Jack Weaver
best essay essay
1st – Jack Weaver, Michael Crabbe
2nd Place – Michael Crabbe, Jack Weaver
3rd Place – Jack Weaver, Amanda Braman
best sports photo
2nd Place – Michael Crabbe
3rd Place – Jack Weaver
best sports photography essay
1st – Michael Crabbe, Jack Weaver
Best Special Division/Best Sports Special Division
2nd Place – Staff
Best sports section/page
1st Place – Ryder Fromm
3rd Place – Ryder Fromm
best edit page
1st Place – Staff
2nd Place – Staff
best front page
3rd Place – Ryder Fromm