T.Britain's adventure in Pakistan this winter didn't end with Ben Stokes and his squad celebrating a famous 3-0 Test clean sweep, as Central Punjab beat Balochistan in Karachi last Monday. Beat by 50 runs to win the domestic 50 Over Cup.
Central Punjab's head coach is Nottinghamshire's Paul Franks, with former county batsman Bilal Shafayat as his assistant. With the duo grinning at their success, his three-month grafting out of the spotlight and security bubble of England's historic tour has paid off handsomely. "I can't remember a boring day," says Franks. He went home and returned to pre-season at Trent Bridge on Monday, assisting Peter Moores. "Entering the final week with a chance of winning the competition, the hard work and being away from my family over Christmas has allowed me to have a pretty special end to an amazing experience.
"I have never felt anything like this in cricket. It is nothing like winning a trophy as a coach with the Notts or the Trent Rockets. For the players, it was just an exhilaration."
Franks and Shafayat were among a contingent of English support staff signed up to work in Pakistan's national system of six teams. Their team remained undefeated in his Quaid-e-Azam Trophy for four days, but on the unforgiving surface he had 10 draws, but blossomed in a 50-over format and qualified for the group stage. Breaking through, he furiously defended 254 in the final.
Known as the General of Notts, Franks is the type to deflect admiration for his army, with top scorer Tahyab Tahir in the tournament and top wicket taker Usama Mir breaking news of Pakistan's first call-up. Tell you. "This is a very strong message from Shahid Afridi and his selection committee. I really hope they show what they are going to do," he says.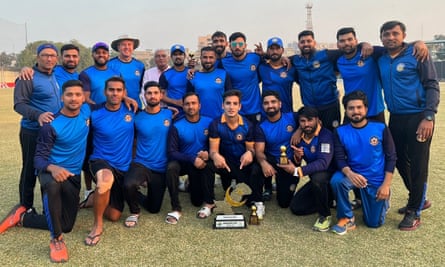 The 43-year-old has personally taken great satisfaction from the trip, which ended with public acclaim from the victorious Central Punjab players on departure. Franks said: We spent a lot of time together as a group and got to know each other very well.
"As much as being a head coach, you want to be friends so they can trust you when big decisions and advice come their way. There will always be, but there are also times when you can see your opinions reflected in action.
Shafayat's opinion was also important. Franks is known to England fans for his walk-on role in the 2009 Cardiff Ashes Test, and the 38-year-old has been named to Nottinghamshire's second XI and age group.
"I knew Bilal was very skilled as a coach, so it wasn't a surprise to me," Franks says. "His experience playing in Pakistan has also given me a true heads-up on what to expect. He is a coach's jewel."
And his own development? "We have toured more countries than most international aspects, and it has been a challenging journey. "
This prospect came as the Franks returned for the 50-over Cup after a 12-day break at home in early December and reactions to England's dominance in the Test series were brewing in the corridors of power. It required Ramiz Rajah to be ousted as chairman of the Pakistan Cricket Board, leading to a broader regime change among Franks' employers. There have even been reports that all of Pakistan's domestic coaches have been sacked ahead of the expected six-team restructuring.
Franks said: However, the new administration wanted to finish the season, so together we were able to achieve our goals. "
And now his own ambitions, especially the expected Pakistani head coach role? I am so grateful to PCB for doing it.It was a great experience as a person and as a coach.The kindness of the players and the people of Pakistan will forever be in my heart."