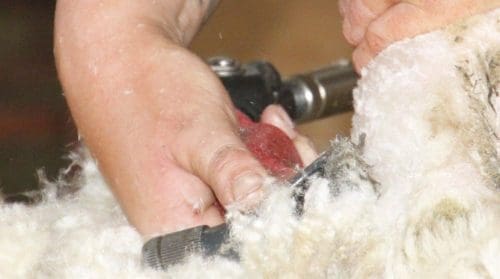 Australia has been beaten by New Zealand in terms of access to workers in the UK-based sheep and wool industry, while a free trade agreement with the UK is progressing.
Australia and the UK have agreed to new arrangements under the Working Holiday Maker Program and the Youth Mobility Scheme, less than two years after the Australia-UK FTA came into force.
This includes allowing UK citizens to apply for a Working Holiday (subclass 417) visa up to the age of 35 and be granted up to three Working Holiday visas (excluding 'COVID-19 affected visas') without a requirement. increase. To do "specific work".
However, Teresa Hilli, a Victorian shearing contractor, said under current arrangements for British workers, including shearers and wool processors, some British workers were forced to work in Australia. The other workers were unable to return after the first visit.
Hiri said she knew a British shearer or haircutter who wanted to go to Australia but couldn't because she was over 30.
"There are some people who want to come but can't because they don't know their age or how to apply for a visa."
This contrasted with the situation in New Zealand, where she heard that one contractor had 45 British workers.
She said the current visa situation is preventing sheep from being sheared in Australia.
"This industry used to be dying, but they're making it worse while they're not allowing these people to come in. All they want to do is work.
"No one wants to work here, so why can't we get them?"
Emma Maubel, also a Western Victorian contractor, said there is still a shortage of industry workers, particularly wool processors rather than shearers, and rising wages in New Zealand are causing more people to stay home. said.
"It's hard to find good hut staff."
Australia's Shearing Contractors Association general secretary Jason Letchford said New Zealand has always had more free trade agreements with Britain than Australia and has an easier path to exchanging workers. said that he knew
"We welcome the change so that we can bring our skilled British shearers and wool handlers to Australia."
He said one of the problems dealing with PALM and workers in Asian countries is that they are not yet skilled at shearing and handling wool.
"Also, the UK season should blend well with the Southern Hemisphere and Australian productions.
"It will give us a reciprocal path that is good for skilled workers."
He said New Zealand has long outperformed Australia for skilled British workers.
"Australia would certainly be a beneficiary if it were to open up in the same way."
Agriculture Minister Murray Watt traveled to London and Berlin this week for trade-focused talks with British and European leaders.
He said the conference will help keep the momentum going on important free trade agreements and ensure that overseas decision-makers and buyers get a true picture of Australia's commitment to sustainable agriculture.
"This visit follows recent pressure by Trade Minister Don Farrell and allows us to underscore the importance of finalizing trade agreements as quickly as possible.
"A UK FTA is well underway through the UK Parliament, but we need to maintain momentum so that Australian producers can tap into this high-value market," Watt said.
"I also emphasize the need for meaningful market access across a range of commodities as part of our new FTA with the European Union.
"In London, we will meet with UK food and agriculture ministers, shadow ministers and industry officials to advocate urgent ratification of the free trade agreement and ensure that buyers are ready to accept more Australian products. "
The Home Office website provides information on the new Working Holiday Maker visa arrangements for UK passport holders, including links to the Australia-UK FTA available on the Department of Foreign Affairs and Trade website. See the new arrangements for UK passport holders at homeaffairs.gov.au for more information.
A spokesperson for the Ministry of Agriculture, Forestry and Fisheries said the Australian government recognizes that working holiday makers provide an important cultural and economic contribution to Australia.
A spokesperson said Australia now has Working Holiday Maker Program agreements with 47 other countries.
Australia has previously negotiated arrangements with many Working Holiday Maker Program countries on a reciprocal basis to increase the eligible age range for WHM applicants from 30 to 35. This includes eligible citizens of Canada, France, Ireland, and most recently Denmark and Italy, effective July 1, 2022. Australian citizens up to the age of 35 also benefit from reciprocity agreements.
On December 17, 2021, the Australia-UK Free Trade Agreement (Australia-UK FTA) was 'virtually' signed, but is not yet in force.